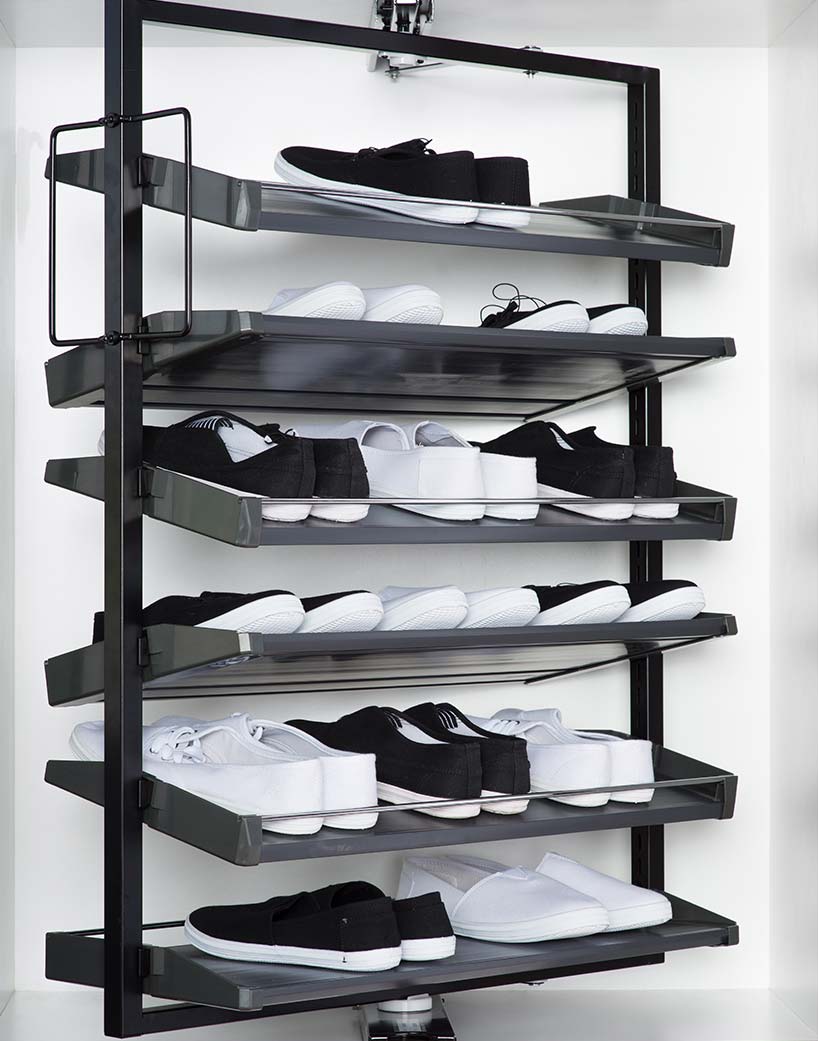 Easy Shoe Storage with Revolving Shoe System
Capital Closets is excited to now offer its newest space-saving closet product, the Revolving Shoe System. Need to find room for more of your shoes in a small space? Here is newest way you can keep and access all your shoes in one place. This is one of the smartest shoe systems on the market – the Revolving Shoe System. You must see it in action!
Get easy viewing and access to all your shoes and boots in one spot. The Revolving Shoe System includes shelves that pull out and rotate 360 degrees. It's an easy, alternative way to store and take out your shoes from both sides.  It increases your storage efficiency and adds some WOW to any closet. Once your friends see this, they will all want one for themselves!
It is available in two heights, 1800 mm (5.9 ft) and 1000 mm (3.28 ft) – fitting up to 56 pairs and 24 pairs, respectively.
Heavy boots, platform shoes? Busy office with limited closet space? We offer customized shelves for heels, boots, and shoes to fit your specific needs and preferences. The Revolving Shoe System holds 2 kg (4.4 lb) per shelf. It is made of solid construction including steel and ABS for shelves and comes in a timeless black finish.
This Revolving Shoe System is perfect for any space. The shelves are salt and moisture resistant, perfect for mudrooms, foyers, master closets, office entrances and for shoe lovers everywhere. Of course, Capital Closets designers will work with you to custom design this into your space with full installation.
Capital Closets offers premium service and products to help people live calmer, better lives. Our team works to the highest standards and we continue to introduce exciting, innovative products that are space saving and fabulous.
Whether you want this to hold men, women or children's footwear, or a combination, we can customize the shelving sizes and offer full installation.