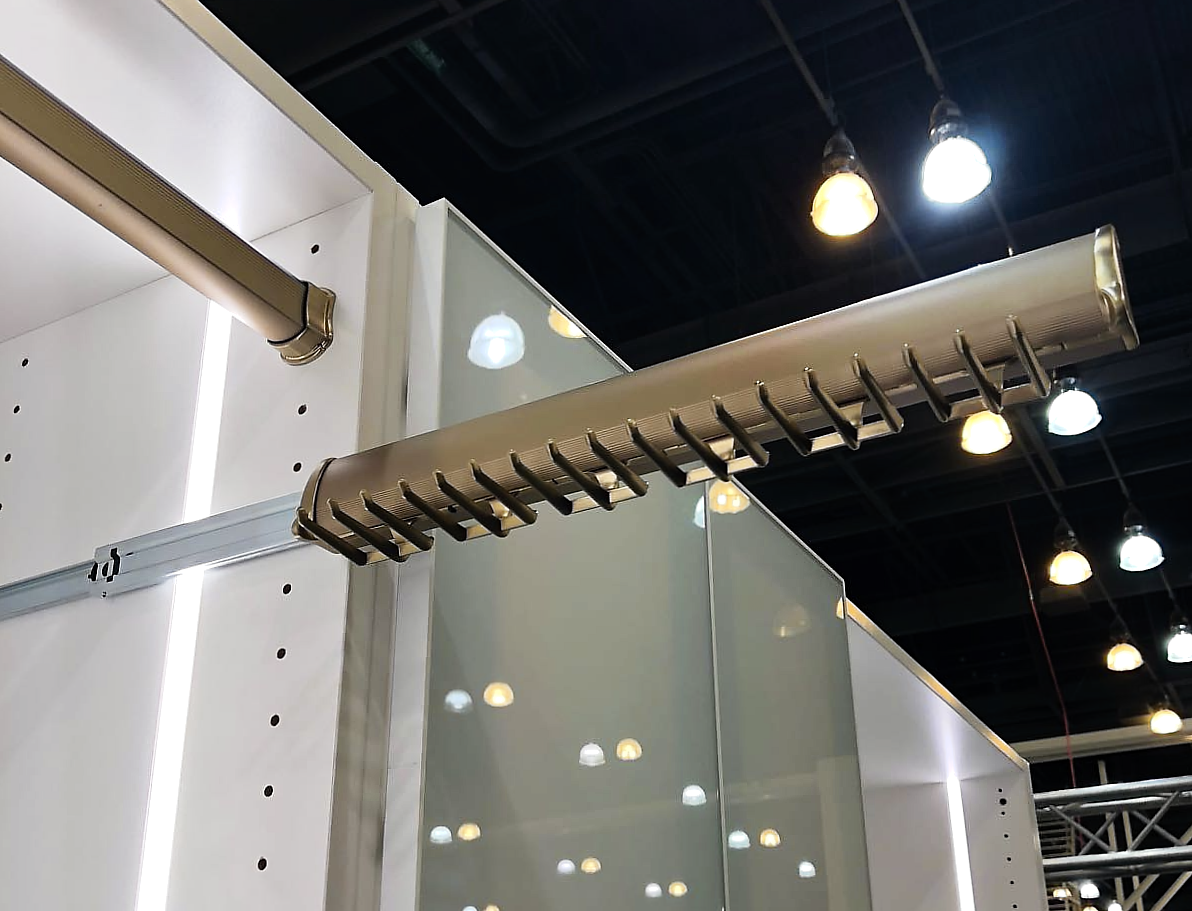 Top Two 2018 Cabinet and Closet Trends to Watch
We want to share some exciting organizing news with you! Recently, our team all traveled to sunny Pasadena, California to network, be inspired and to learn more about the newest trends and products the 14th annual Cabinets and Closets Conference & Expo.
We heard news from industry experts and saw award-winning new cabinet and closet designs and innovations. We were excited to meet other professionals in our industry, to watch and learn from other industry experts, and tour the trade show floor to see what is being featured as the newest and most popular products.
Here are the Top Two Innovations and Trends we thought were most inspiring and exciting:
Matte Gold Hardware Finishes
Organic Material
Matte Gold Hardware Finishes
One of the trendiest finishes to dominate home décor and, specifically, cabinets and closets is matte gold finishes. This is a subtle, muted gold that has a warm, soft look. This is not your grandparent's or great grandparent's gaudy gold and brass from the eighties or earlier decades.
Adding matte gold can be a unique way to elevate your room's look. It can shine some extra glam and refinement to a clean, white, and/or modern neutral room. Trendsetters are showing great excitement about this trend, taking it from subtle accessories of cabinet and drawer pulls to maximum exposure with hooks, rods, lighting and more.
Organic Material
More and more people are seeking to live more healthier and cleaner lives. It is exciting to see how this is becoming a significant influence in home décor trends. Organic material is gaining interest by more than your friendly, granola hipsters. Not only is it a better choice for our earth's well being but it can help set a soothing, relaxed mood. It can also serve to balance esthetics with both natural efficiency and luxury. A room can be transformed by simply adding small or bold applications of organic material.
At the Expo, we noticed innovative ways to introduce this trend into a room. This can include adding drawer fronts that resemble tree bark, live edge tables or bamboo counter tops.
FACT
Organic elements like glass, wood and stone provide
strength and durability but also maintain their value over time.
Our team is inspired and excited about these trends and blending them into new projects with clients. Fresh, innovative, and functional. After all, don't we all want to live a more clean, fabulous, and organized life?
Whether you are a new homeowner, busy parent, or have acquired many things over the years, whatever your lifestyle, Capital Closets can design closet-organizing systems that are high functioning and right for you. A Canadian, family-run business, our Capital Closets team is dedicated in bringing you inspired, creative and unparalleled expertise.