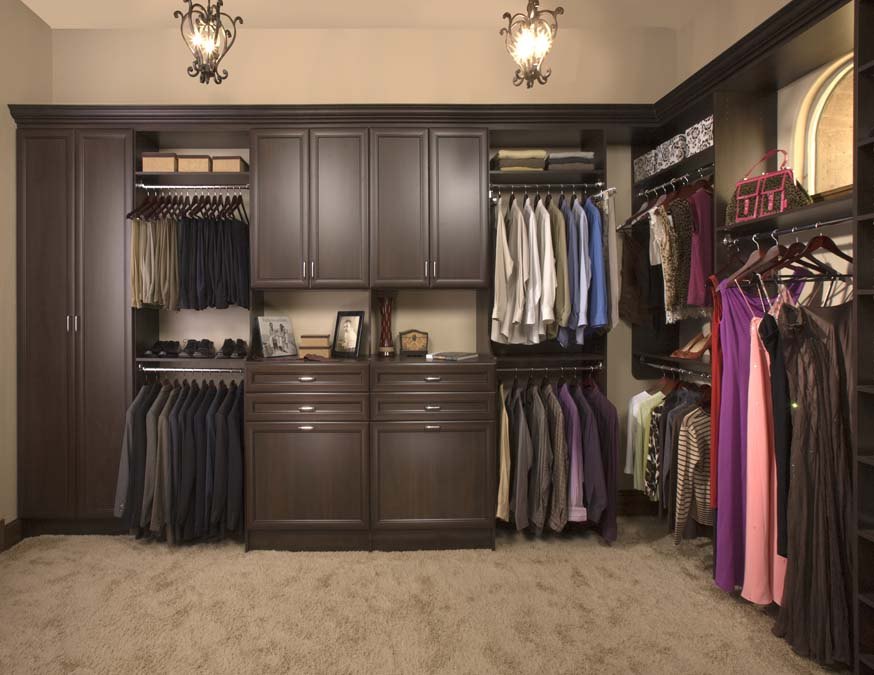 7 Steps How to Design Your Dream Closet
Capital Closets are experts in closet organization and design. They know what it takes to plan and create dream closets – it's their passion with over a decade in the business. Every homeowner has unique needs and preferences but the path to forming a perfect closet is similar. According to Capital Closets, here are your 7 steps on how to design a dream closet.
7 Steps How to Design Your Dream Closet
Review and filter your closet inventory.
The first thing to do is closely review each item in your closet to clear away – to give away, discard or sell – those items that no longer WOW you, fit you properly, or have crept into dinosaur fashion.
Evaluate your space.
Take a close examination of your closet space. High ceilings can benefit from pull-down rods. Closet doors can perform double duty with hanging organizers. Extra floor space can outfit a functional island or ottoman. It is important to measure and calculate what rod space you need and shelves to install, according to your types of clothing and items you wish to store.
Imagine and define how you will use your closet space.
Are you an early morning riser? If so, you may benefit from extra lighting for those dark wake-up times. Are you not as tall as you would like to be? You may want to incorporate a space to store a small step stool. Do you like to plan your outfits in advance? Adding valet rods to your design enables smart placement instead of a last-minute installation in a potentially awkward spot. Active people enjoy keeping their fitness gear altogether. There are tons of nice-to-have items in different styles that can also be incorporated like pull-out laundry bins, scarf racks and more.
Lighting to suit your lifestyle.
There are so many lighting possibilities. Your best choice for you will depend on your space and preferences. It will also depend upon whether there is a window nearby and the type of cabinetry selected (darker colours reflect less light). Options include LED lighting for rods, illuminating inside glass cabinets, pot lighting, signature ceiling lighting from flushmount to suspended lighting, like chandeliers. The fun and challenges are finding the right lighting that best suits your space, functional need and personal style.
Make all your wall space count.
Your walls can work harder for you with more functionality. Walls can add illusions of more space with mirrors or can be adorned to increase the posh factor. Extra wall space can serve practical purposes like adding hooks or shelves to display cherished purses, hats, or shoes. Pretty wallpaper can add a special element of luxury. Beautifully framed mirrors can balance function with luxury, making your space seem larger.
Count every shoe. Every shoe counts.
Keep your shoe collection together. When you plan space for every shoe, boot, flip flop, you are customizing your space, so every item has its set place. This is an important part of how a dream closet is designed. It makes it easier for items get returned to their proper place.  Create enough space to also fit a few extra shoes. There are many space-saving shoe racks and revolving shoe systems that can offer smart ways to store and display your favourite pairs and collections.
Set up a Jewelry spot
Organize your jewelry with a lovely velvet jewelry tray, drawer insert or add beautiful glass bowls or china on a dresser. This is an ideal location to add some of your personality, colour and style. Keeping all these large and small items unified and tucked away properly keeps each of them easy to find for the next time.
Details and proper planning are the keys to start creating a dream closet for each homeowner. It is where function meets fabulous helping to make your mornings one of the highlights of your day!
Whether you are a new homeowner, busy parent, or have acquired many things over the years, whatever your lifestyle, Capital Closets can design closet-organizing systems that are high functioning and right for you. A Canadian, family-run business, our Capital Closets team is dedicated in bringing you inspired, creative and unparalleled expertise.